Specially designed for multiple 2,3 or 4 per wheel use. The MV-12 Racing Shocks feature maximum velocity progressive valvings that are engineered to reduce the heat build-up of the shock, thus eliminating shock fade.
This low friction internal design incorporates an O-ring piston head that provides the ultimate in high performance compression and rebound control.
Available in 8", 9", 10" and 13" travel configurations. These Doetsch Enterprise MV-12 shocks can be fitted with mounting loops or stem (S1) mounts along with large urethane racing bushings.
The MV-12 Shocks have been used throughout the world in some of the most treacherous conditions - they are built to survive!
To order with stem mount, add "SL" to the end of part number (EXAMPLE 4-0800SL)
• Maximum Velocity Progressive Valving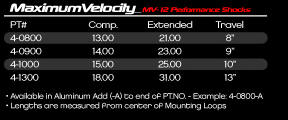 • Built-in External Wiper Seal
• Massive 11/16" Chrome Shaft
• Double Welded Ends




Black - $45.44
The Nitro Slammer is specifically designed for lowered sport trucks. This complete line will fit all import and domestic light duty, mid and full size trucks. Nitro Slammer shocks will give your truck a boost in cornering performance.
• Large 1 3/8" Piston • Twin Tube • Dust Wiper Seal • Polyurethane Bushings • High-Gloss Black Enamel Finish • 180 p.s.i. Nitrogen Gas
(Nitro Slammer shocks may not be ran upside down - Always run shaft in the Up position)