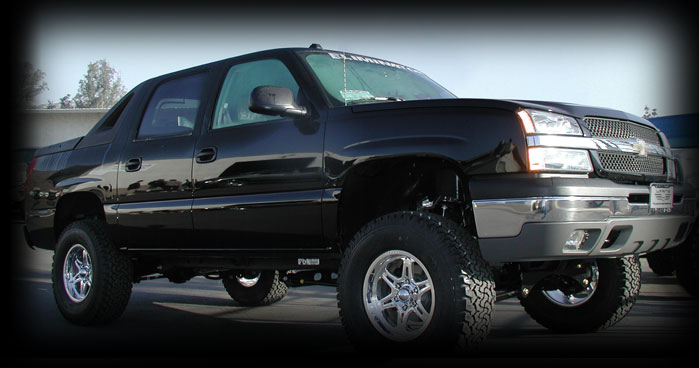 The Chevy 4WD 1/2 ton Silverado kit gives you a full 6" of lift without turning the torsion bars. This kit comes complete with Extended, Machined Ductile Iron Spindles, 1/4" Steel Drop Down Brackets, CV Spacers and Rear Compression Strut Tubes. Rear end uses a Block and U-Bolt kit. Each kit comes complete with DT3000 shocks. Note: Shocks can be substituted with Custom Shocks at the time of purchase.
Chevy 1/2 Ton Silverado_
4WD Suspension Systems
PT#

Application

Lift

Drop Down
Bracket

Spindle

Compression
Struts

Front CV
Box Kit

Rear
Block Kit

Shock
Pack

Price

61099

99'-05' Chevy 1/2 Ton

6/3

61099-1

61099-2

61099-3

61099-4

61099-5

61099-6

$1,526.63
The 00' and up Tahoe, Suburban, Avalanche chassis, shares the same components as the late model 4WD Chevy with the exception of Coil Springs in the rear. Our kit#61077 kit comes with all the necessary components to lift the SUV including Rear Coil Springs.
Chevy Tahoe, Suburban, Avalanche_
2WD & 4WD Suspension Systems
PT#

Application

Lift

Spindle

Upper
Arm

Drop Down
Bracket

CV
Spacers

Strut
Tubes

Rear
Coils

Shock
Pack

Price

61077

00'-05' Tahoe 4X4

6/3

YES

-

YES

YES

YES

COILS

YES

$1,646.61

61076

00'-05' Tahoe 4X4

6/3

YES

-

YES

-

YES

COILS

YES

$1,556.58