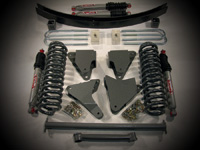 Kit # 63096
Lift Info - Ride Quality (GOOD)
This kit contains 6" Lift Coils, I Beam pivot brackets, Radius Arm drop brackets, Sway bar support. Rear uses Add A Leaf and a Block kit. This kit comes standard with Monotube Shocks.

*Note: Installation requires a new Pitman Arm. Production date prior to April 1, 1999 use PT# FD400. After April 1, 1999 use PT# FD600.